Imagine falling asleep to only the sound of the wind. Imagine waking up not to an alarm but to the sound of birds and the tickle of sunlight on your eyelids. Imagine being in the middle of hypnotically undulating prairie under the biggest sky you've ever seen. Imagine passing through wildly different landscapes—prairie, rock and sand, and thickly forested mountains—in the space of only a few hours.
What you are imagining is being in North and South Dakota—two US states that don't get nearly enough credit for being spectacular. In spite of having spent several days in both states on separate trips, my heart yearns to go back. Here's why.
No Traffic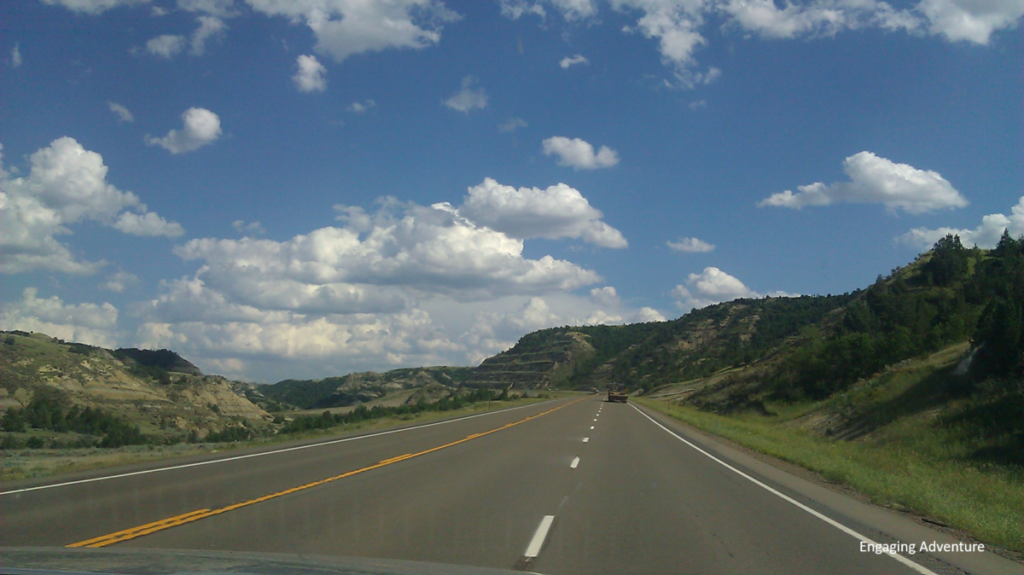 The first thing you notice when you drive away from the airport is the lack of cars on the highway with you. I bought a postcard in North Dakota with a picture of an empty road and the captain "Rush hour traffic." In North Dakota you'll see a number of big rigs thanks to the recent oil boom there, but otherwise you'll have the road virtually to yourself. If you live in a congested urban area like I do, you'll revel in the absence of traffic jams and road rage in the Dakotas.
The Hypnotically Beautiful Prairie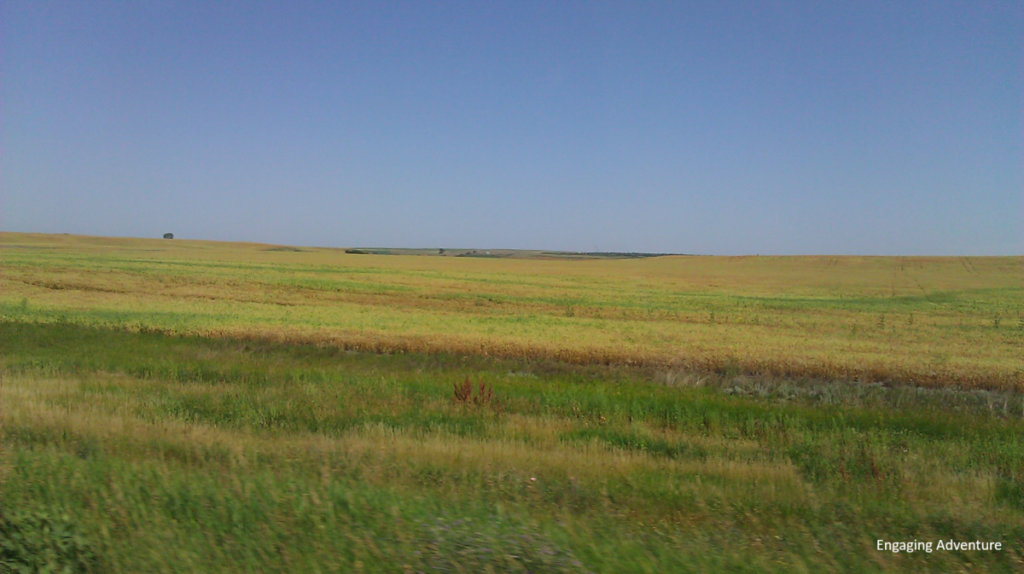 It's hard to describe the prairie to someone who has never seen it. I had a hard time picturing it myself until I went there. Think of the Sahara Desert, only covered in light green-gray grass instead of sand. It stretches on as far as the eye can see, unbroken, slowly undulating. It's not hilly but it's not 100% flat either. The tall grass seems to be in perpetual gentle motion. It's at once unremarkable and magical. It gives you the urge to get out of the car and run and run and run through it like you're a kid again, full of energy and imagination, at an age when it seemed everything was possible.
Mount Rushmore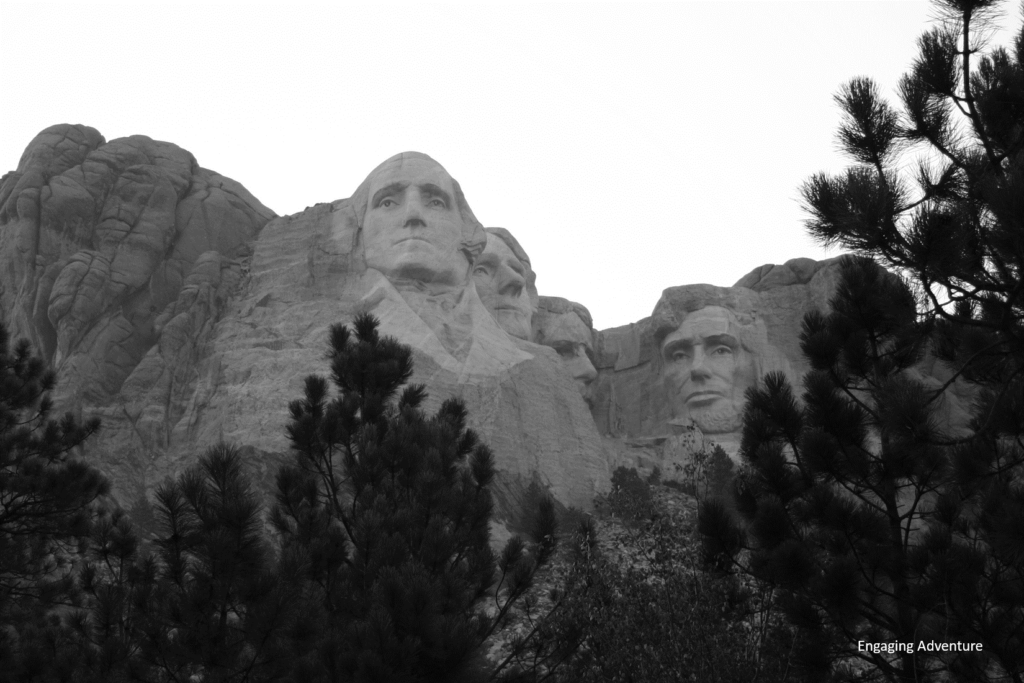 No photo can ever do justice to the truly awesome majesty of Mount Rushmore. For one thing, it's huge. Literally larger-than-life. The iconic faces tower above you in the mountain, as if keeping watch over the nation from their high perch. When I visited, we got there shortly before sunset and although the monument is lit up at night, I felt cheated of enough daylight hours to sit and gaze at it like it deserved. I'm sure I could have stared at it from all angles for days without getting tired of the view.
Bison and Prairie Dogs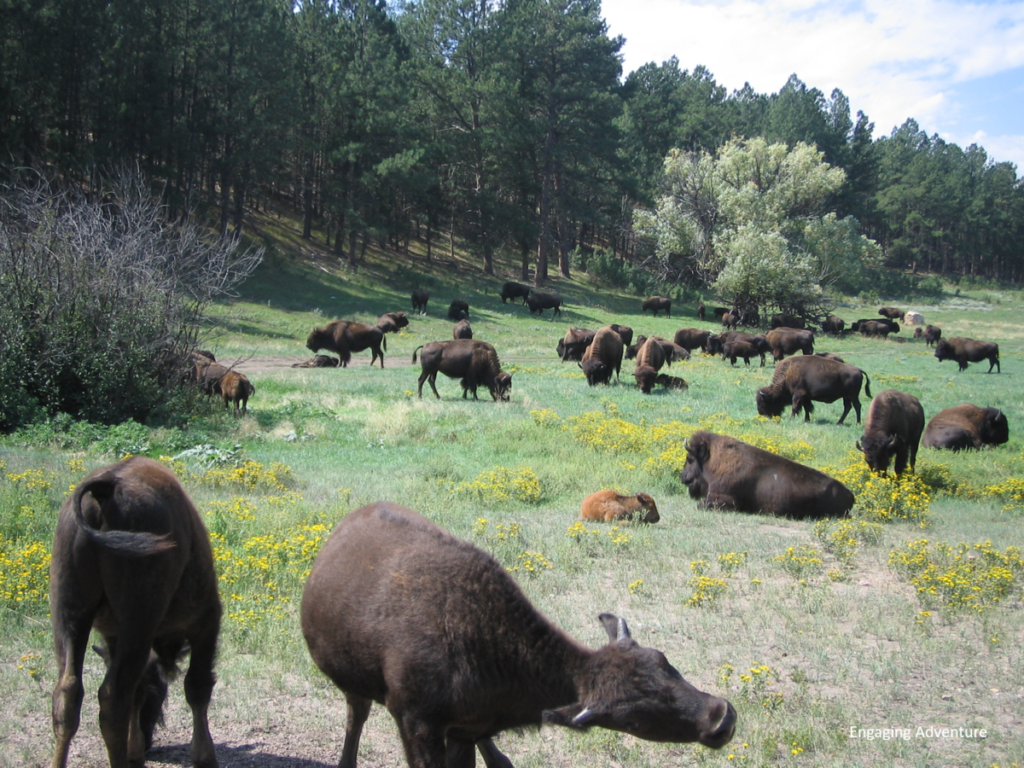 Since going to the Dakotas, I'm annoyingly precise about calling bison by their proper name instead of calling them buffalo. Buffalo are like big, noisy cows with horns. Bison, on the other hand, are hulking and shaggy and look kind of misshapen. Their sheer mass is intimidating. They exude power, as if they could run you down with a couple of misplaced hoof steps, but at the same time they're docile and you kind of want to pet them. Don't even get me started on how cute the babies are.
Prairie dogs are fascinating. Aside from the cute factor, they seem to be full of nervous energy and always busy. It's not clear exactly what they're doing, but they sure are busy. They pop out of their little holes in the ground, sniff the air and look around, then drop back in again. They do this with such rapidity and seeming randomness that you wonder if there's not an elaborate prairie dog city under the ground full of buried treasure that they're guarding.
You'll see both of these animals in abundance in North and South Dakota.
Theodore Roosevelt National Park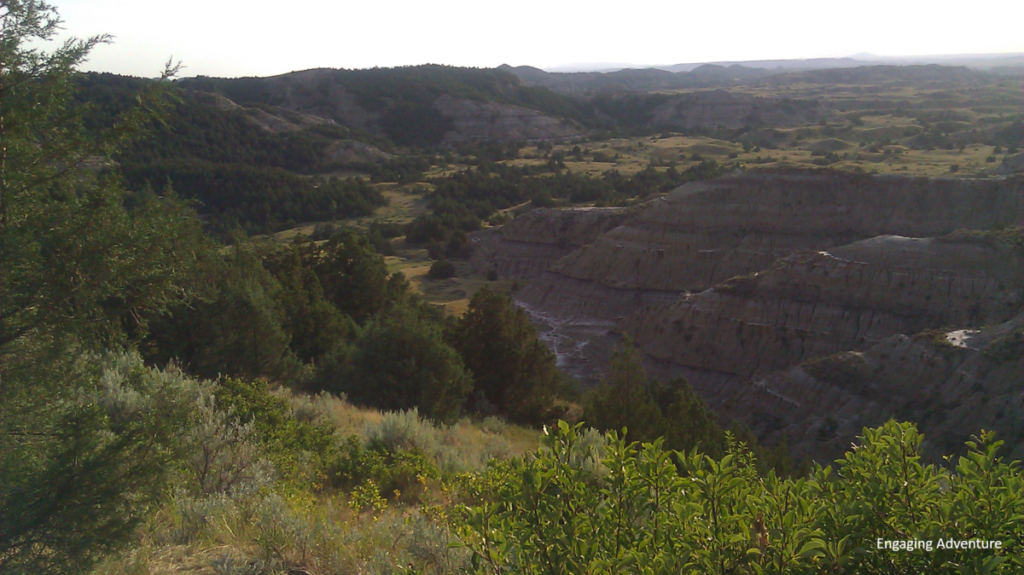 Few people know about the wilderness gem that is Theodore Roosevelt National Park, in southwestern North Dakota. This site encompasses the ranches of President Theodore Roosevelt, who spent long stretches of time ranching and hunting there starting in 1883. Roosevelt was an avid hunter, outdoorsman, and proponent of the "strenuous life" as a path to strong physical health. He became 26th president of the United States in 1901 when President William McKinley was assassinated less than a year after being elected to a second term. One of the hallmarks of his presidency was protecting huge swaths of American wilderness from development, leading to the creation of many of the nation's present-day national parks.
The park itself has everything you could ask from a national park: abundant wildlife, including bison and long-horn cattle; a meandering river; a rugged, beautiful landscape; plentiful hiking and walking trails, clean air; and unpolluted skies for star-gazing at night. The nearby town of Medora offers lodging, historical information about Roosevelt and the area, and horse-back riding. Don't miss the western-style Medora Musical, about Teddy Roosevelt's love for the area. It's held outdoors nightly throughout the summer.
Little House on the Prairie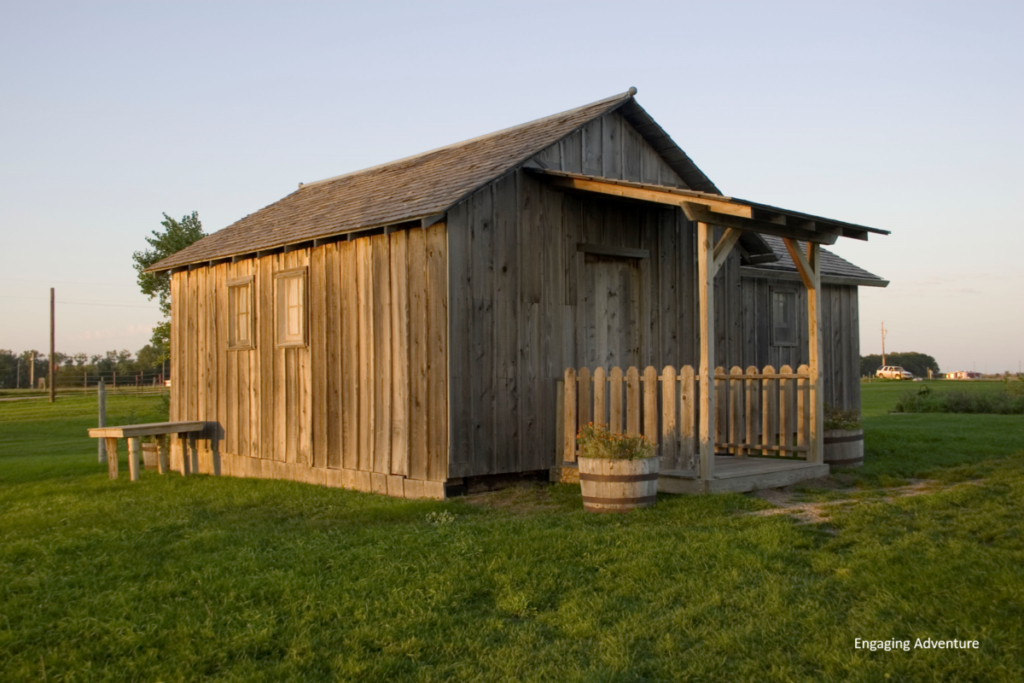 Fans of the Little House on the Prairie books (or the TV series) can't leave the Dakotas without spending a few hours at the Laura Ingalls Wilder Homestead near the town of De Smet, South Dakota. The books The Long Winter and part of By the Shores of Silver Lake take place in this area. You can take a covered wagon ride, visit the old school house, get a taste of pioneer life, and be glad you've never had to live in an earthen dugout.
Just a few miles away from the homestead are the Laura Ingalls Wilder historic homes. This site includes the Surveyor's House where the family lived before moving to the homestead in 1880 as well as the first school of De Smet, attended by Laura and Carrie, and a discovery center showcasing Laura's belongings and hands-on activities about pioneer life.
The Badlands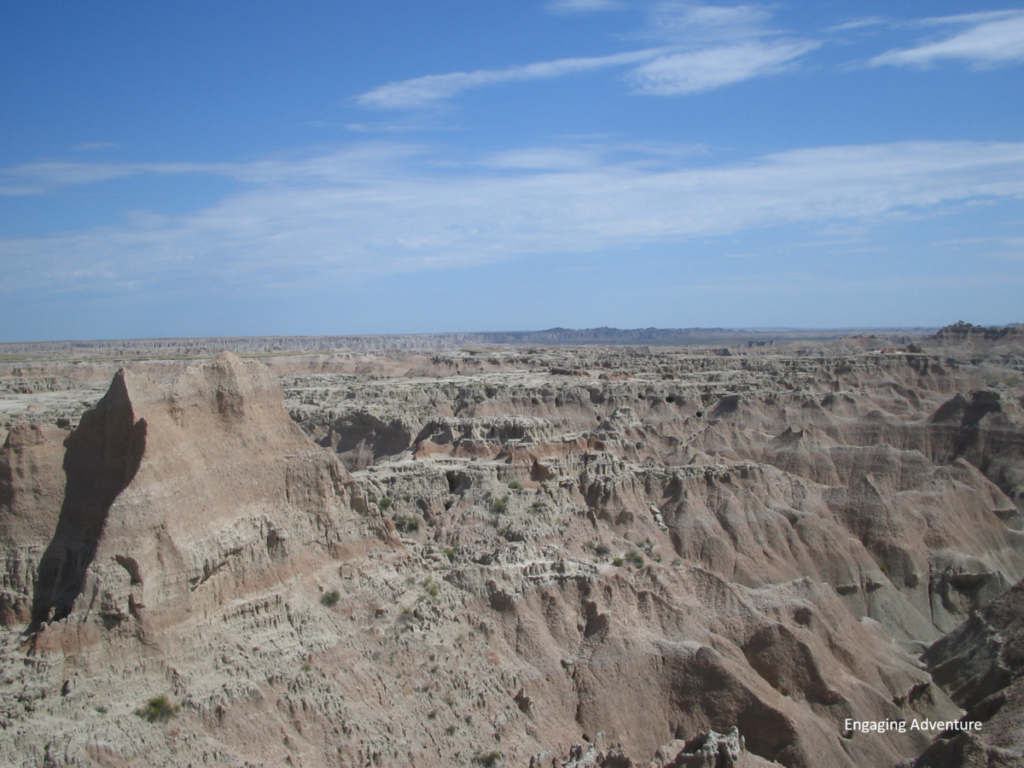 Oh my, I've never been as fascinated by sand as I was in the Badlands. These rugged formations of colorful rock and sand in South Dakota seem to come from nowhere, interrupting the prairie and taking over, going on for miles. How do they achieve those shapes? How do those pillars remain standing? You can hike through sections of the Badlands (take sunscreen and lots of water) or just pull out your camera and try to capture their strange attraction as evidence of Mother Nature's creativity.
The Black Hills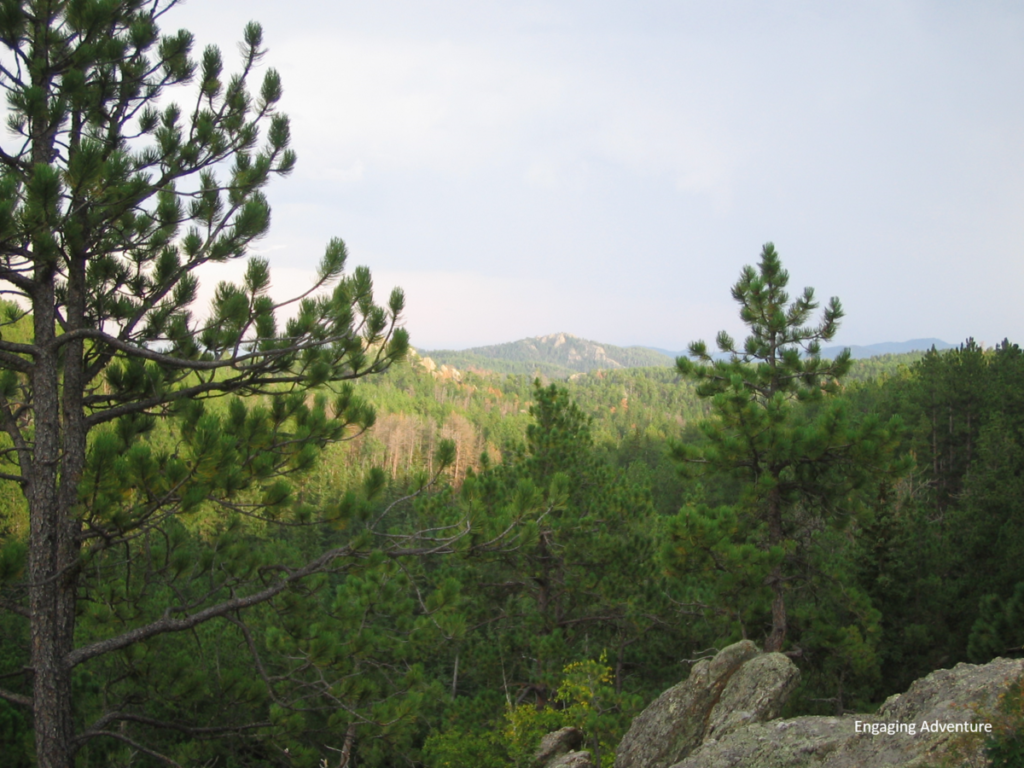 Just as suddenly as the Badlands appear in the midst of the South Dakota prairie, they disappear, giving way to thickly forested mountains in the Black Hills. The area is comprised of adjoining protected areas: Black Hills National Forest, Custer State Park, and Wind Cave National Park. The forest is the home of Mount Rushmore, the unfinished and mammoth-sized Crazy Horse Memorial, and labyrinthine Jewel Cave, as well as countless hiking trails, camping spots, and more pine trees than you've ever seen in your life. As a result, the air here smells incredible.
I only had part of one day to drive through this area that you could easily spend a week or more exploring. This is wilderness, real nature, undiluted beauty, wildlife abounding, senses alive every moment.
Really Getting Away from it All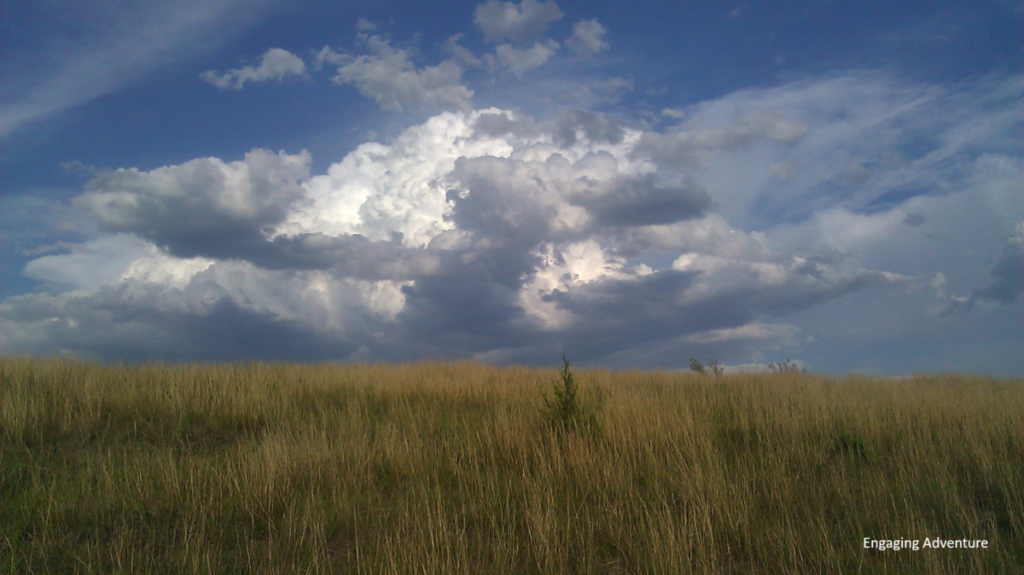 Perhaps the best part of visiting the Dakotas is simply getting away from the stress, noise, and bustle of daily urban life. Post-card-worthy scenes greet you here at every turn. The sky is so big you can practically see it curving around the earth. Wildlife is all around you, just waiting to be spotted and admired (from a distance, of course). The air is unpolluted and has a crisp, fresh smell.
Aside from the occasional car, the only sounds you hear are made by Mother Nature and her creatures—wind, a passing rain storm, birds, insects. No construction noise, horns honking, or alarms going off. Your cell phone may or may not have reception, giving you license to ignore the rest of the world for a few hours or days.
The distances between points of interest are long, and that's part of the appeal. You start to realize the vastness of these states and this country as you travel. And you can't imagine your life before you experienced the quiet, beautiful allure of North and South Dakota.
Have you been to North or South Dakota? Tell me your favorite thing about them in the comments.
Did you enjoy this article? Get even more travel goodness in my newsletter. Click here to sign up!